VMware moved their Academic Program to a different platform which unfortunately does not support automated user management so we are unable to continue offering VMware software to staff and students. There is a temporary solution for users that already have a VMware installation and need more time to find alternative products.
We can offer a non-renewable subscription to the VMware Academic Program limited to one year. Please write to itshop@ethz.ch if you need to renew your existing licenses.
Please note that the VMware Academic Program offers limited licenses for academic use only. Students, lecturers and technical staff may use VMware software exclusively for teaching and non-commercial research. Use in administration and for infrastructure projects is not allowed.
See https://www.vmware.com/ch/company/labs-academic-software/academic-licensing-overview.html for details.
How to request and setup a temporary subscription
If you already have VMware software installations from the Academic Program and need to renew your licenses please write to itshop@ethz.ch and explain your situation. If your request is approved, you will receive an email from info@itacademy.brightspace.com with a login/registration link.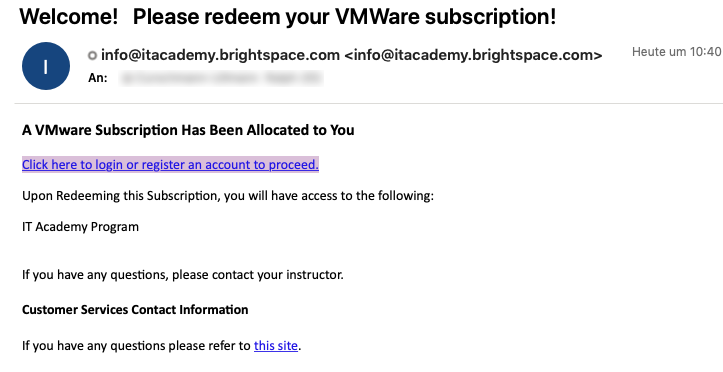 Click on the login/registration link.

A website will open informing you that a subscription has been allocated. Click the «Click here» button.

Click the «Register» button.
Enter your name, email address and the password you would like to use. Please note that you were invited with your ETH user name @ethz.ch (musterm@ethz.ch for example). You will need to enter your @ethz.ch address for the account to be created properly. Click «Submit».

If prompted whether to allow «Application Course Merchant v4.0» access to your information, please click «Continue». This is a normal part of the registration.
Verify your name and email, then click the green «Click here to redeem» button.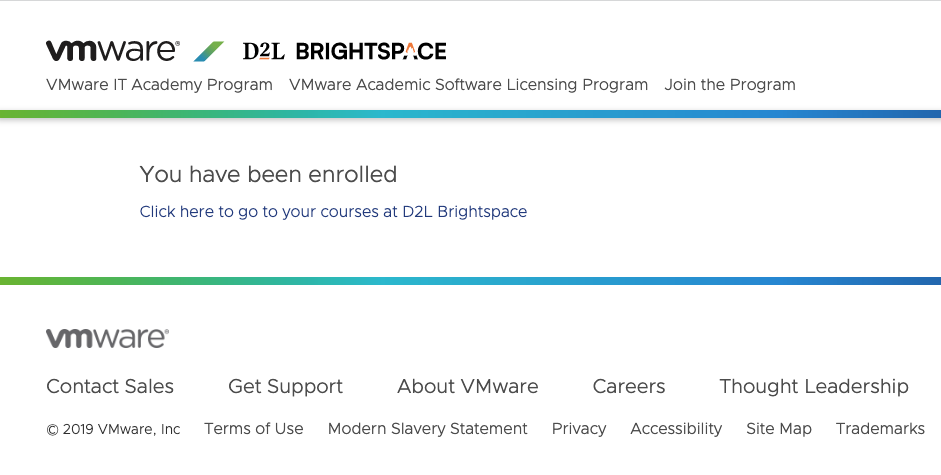 You are now ready to continue to your courses. Click on the link to get access to your software.